7 b) Is the EC still relevant?
The answer to the question of whether or not this process fairly represents the will of the people is: Often it does, but not always. My view is that it is outdated and no longer a necessity. With today's communication technology I say let the people decide. This view is shared by a majority of the public:
Source for below (Gallup): http://www.cobblearning.net/mmarenda/files/2014/12/Americans-Call-for-Term-Limits-End-to-Electoral-College-29m9u9b.pdf
"More Than Six in 10 Would Abolish Electoral College
Americans are nearly as open to major electoral reform when it comes to doing away with the Electoral College. Sixty-three percent would abolish this unique, but sometimes controversial, mechanism for electing presidents that was devised by the framers of the Constitution. While constitutional and statutory revisions have been made to the Electoral College since the nation's founding, numerous efforts to abolish it over the last 200+ years have met with little success.
There is even less partisan variation in support for this proposal than there is for term limits, with between 61% and 66% of all major party groups saying they would vote to do away with the Electoral College if they could. Similarly, between 60% and 69% of all major age groups take this position."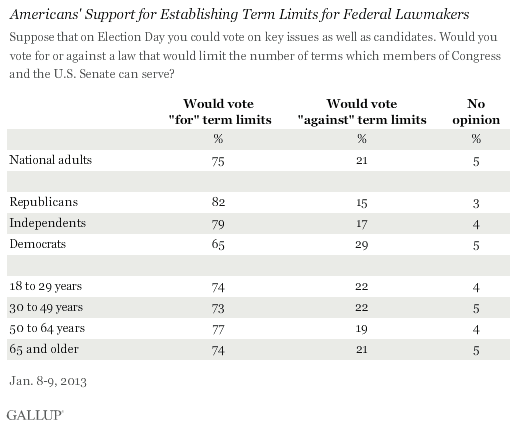 Republicans and independents are slightly more likely than Democrats to favor term limits; nevertheless, the vast majority of all party groups agree on the issue. Further, Gallup finds no generational differences in support for the proposal.
These findings, from Gallup Daily tracking conducted Jan. 8-9, are similar to those from 1994 to 1996 Gallup polls, in which between two-thirds and three-quarters of Americans said they would vote for a constitutional amendment to limit the number of terms that members of Congress and the U.S. Senate can serve.
Stay tuned for more on this subject next week.